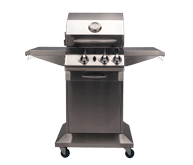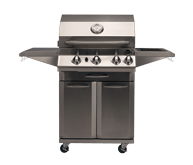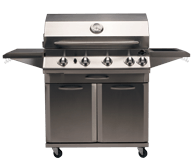 The Lux 400 Cart Model; a full sized grill in a compact package; perfect for singles, couples and today's smaller families. Grill the perfect steak; roast a chicken to perfection on the infrared rotisserie. With a total grilling surface of 370 square inches (Primary: 268 sq. in. Secondary: 102 sq. in.), the Lux 400 offers the perfect balance between performance and flexibility. Ideal for smaller patios and decks.
The Lux 550 Cart Model offers the same high quality features as the Lux 700, but in a smaller package. It's the best value barbeque available for the dollar you spend. With a total grilling surface of 510 square inches (primary: 370 sq. in., secondary: 140 sq. in.), it provides ample space to prepare delicious family dinners, and the perfect solution for smaller decks and patios.
The Versa 50 makes it possible to cook at your camp site, on a boat, the beach, or the lakeshore. It combines a high-performance stainless steel cook surface with the flexibility to grill wherever you go. The smaller size version of the Versa 100, the Versa 50 is packed with many of Jackson Grills' high quality features and perfect for limited space applications.
Add Warmth to Family Dinners!